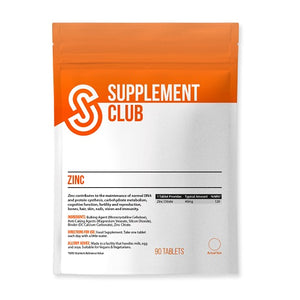 This supplement is a great way to boost your levels of Zinc in your body. The high-strength tablet contributes to the maintenance of normal DNA and protein synthesis, carbohydrate metabolism, cognitive function, fertility and reproduction, bones, hair, skin, nails, vision and immunity.
Zinc is a vital component of our daily diet and giving your body a boost is a must. These one-a-day tablets will give you 120% of your daily recommended intake.
As with all vitamins & supplements from The Supplement Club, our tablets have been carefully crafted to the highest standards, using the highest quality ingredients.
Directions
Take 1 tablet per day, with water. Not to be chewed.
Food supplements must not replace a varied and balanced diet and a healthy lifestyle. As with other food supplements, consult your doctor or pharmacist before using if you are under medical supervision, pregnant, breast-feeding, have epilepsy, suffer from food allergies, or are allergic to any of the ingredients.
Allergy Advice 
Made in a facility that handles milk, egg and soya. Suitable for vegans/vegetarians.