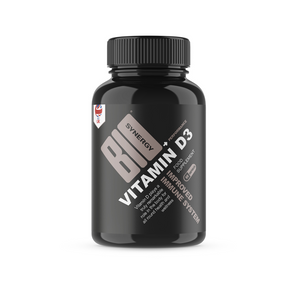 Vitamin D, better known as the sunshine vitamin is essential for wellbeing, fitness and health.
Vitamin D3 helps the absorption of calcium and phosphorus, which helps keep your bones strong.
Vitamin D3 plays a vital role in a healthy immune system, and it is beneficial to mood, energy levels,heart & hair health, and even weight loss.
In many cases due to our diet, Vitamin D3 becomes an essential supplement.
Not suitable for children or pregnant women. Food supplements should not be used as a substitute for a healthy lifestyle and balanced diet. If in doubt of the suitability of this product, consult your GP. Do not exceed the recommended daily dose.
Store sealed in a cool dry place out of direct sunlight and the reach of children.
THIS PRODUCT IS SUITABLE FOR VEGANS
Directions: Take one capsule a day with water.